Adam Henry Carrière
"sinistrose, morosite" and "Queer Quadrille"
Zigeunertänze (chapbook)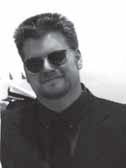 Adam Henry Carrière is a poet, teacher, and broadcaster who has crashed five states, committed radio in three, frolicked in some fifteen countries, and even played on three Navy ships before Rummy got wise. Recent publications include The Bicycle Review #1, The Smoking Book, The Mayo Review, Counterexample Poetics, Tonopah Review, Juked (2008 Poetry Prize Finalist), and Tattoo Highway.
Born on the South Side of Chicago, Adam now resides in Las Vegas, Nevada, where he has personally bankrolled the renovation and/or expansion of at least four neighborhood casinos, won the Nevada Arts Council Fellowship in Poetry, and publishes Danse Macabre, Nevada's first online literary magazine. He's also presented a wide range of papers at the Far West Popular Culture Association / American Culture Association's annual Conference, and serves on the Editorial Board of Popular Culture Review.
Working on a doctorate (or, working on not being further impoverished and/or disassociated by said pursuit) has not dislodged from him the guilty pleasures of Ian Fleming, bella musica Wien, and Britain's Hammer Films. His favorite poets are Hughes, Szymborska, and Mozart. Particularly, he aspires to follow on the imaginative trail blazed by the feuilleton of Joseph Roth.