Felino Soriano
"Painters' Exhaltations 90" and "Painters' Exhaltations 92"
"Painters' Exhaltations 91," "Painters' Exhaltations 93," and Painters' Exhaltations 94"
Calling Toward Clarity (chapbook)
Belief in Bodily Echoes (chapbook)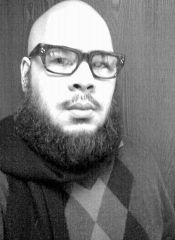 Felino Soriano is a case manager working with developmentally and physically disabled adults in California. He is the editor of the online journal, Counterexample Poetics, which focuses on International interpretations of experimental poetry, art, and photography. He is the author of three chapbooks, Exhibits Require Understanding Open Eyes (Trainwreck Press, 2008), Feeling Through Mirages (Shadow Archer Press, 2008), Abstract Appearance Reaching Toward the Absolute (Trainwreck Press, 2009) and an e-book, Among the Interrogated (BlazeVOX [books], 2008). The juxtaposition of his philosophical studies with his love of classic and avant-garde jazz explains his poetic motivation. Read more about Felino at his Web site.